In 2021, the number of mobile users worldwide stood at 7.1 billion. If there are 80% of users choose to buy one plastic phone case per year, well that will be 5.68 billion plastic comes into our life each year, this is a huge number, so that is why Casetify have a recycle project and Pela becomes popular in the phone case market, because we care about our environment and want to something better to protect it. I think that is why more and more people want to sell biodegradable phone cases for business.
Before choosing an eco-friendly phone case as a product for business selling, there are four points we need to consider well before we start.
What are biodegradable phone cases made from?
The biodegradable phone cases are made of flexible TPU with 50%~70% wheat straw, the raw material is to meet the ASTM D6400 and/or D6868 and PBAT compostability standards, biodegradable phone cases cannot degrade themselves in a natural, bare environment and need to be composted to complete the process. So make sure your customers or clients know the tip when buying biodegradable products.
This is the most basic requirement for a biodegradable compostable phone case.
In addition, biodegradable cases are available in 7 colors, the matte surface prevents fingerprints, not only for the iPhone model, but also available for Samsung and some other Android models.
The biodegradable phone case thickness is around 1.2mm, designed with raised edges to protect the front screen also the back camera, against the drops and falls in daily use, the sensitive key buttons can easy to control the phone.
it has the essential features that primary phone cases should have: protection, and more importantly, it is biodegradable.
How long do biodegradable phone cases last?
we all know that a plastic raw material phone case could take upwards of 450 years to decompose, for the biodegradable phone cases, the decomposable time is approximately 3 months to 3 years. you will be confused why could be so different?
Because the biodegradable phone cases require the proper temperature, humidity, light and composting environment to complete the degradation, it is can not complete the degradation if it is exposed to the environment with other plastic products.
So if they in a perfect composting environment, they could be decompose in a few months, But if they lack, for example, the proper humidity, they may need a few years to complete the degradation.
So make sure they can be burying and composting instead of just throwing it away.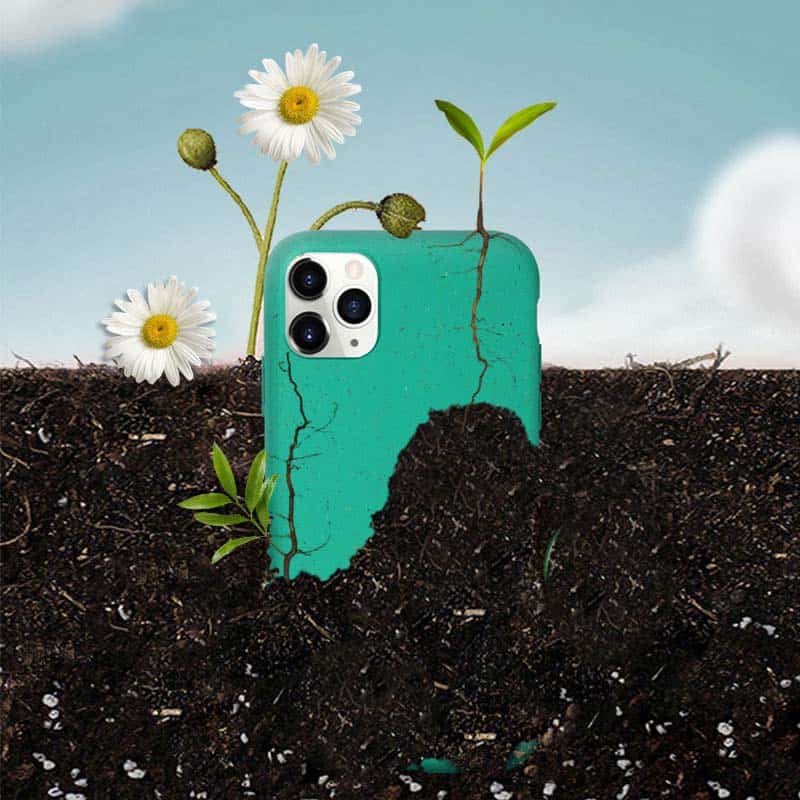 How to custom biodegradable phone cases?
if you choose a biodegradable phone case for your business, you may also want to custom your own design or a tiny LOGO on the product to make your customers remember you.
there are 2 most commonly used methods to customize the biodegradable phone case you should know.
Custom design color printing biodegradable phone case
The biodegradable phone case can be printed with a UV printer machine, can be printed with any colorful patterns, photos or logos, you can design your own pattern to match the color of the existing biodegradable phone case, so that the color and your pattern match together, the CMYK printing is water resistance, no color fading over time, and also anti-scratch as well.
The minimum order quantity of the UV printer biodegradable phone case only needs 10 pieces for each model/color/design, It is by far the most affordable bulk printing customization service.
If you already have a UV printer, you can also purchase this biodegradable phone case to personalize your service.
Custom LOGO engraved biodegradable phone case
The most common process used today for customizing a biodegradable phone case is laser engraving, you can just customize a simple logo on the bottom, or engrave some marine life patterns on the back of the whole case, to make your biodegradable phone case look more eco-friendly.
Usually, the minimum order quantity for laser customization is 200 pieces, but you can choose different models and colors to complete your product model range.
The advantage of engraving is that the pattern will never fall off, no matter how it is used, you can feel the LOGO with your fingers. And it does not change the nature of the original biodegradable phone case, I think that is why most peoples choose to laser engrave LOGO or patterns.
Biodegradable phone case with crossbody straps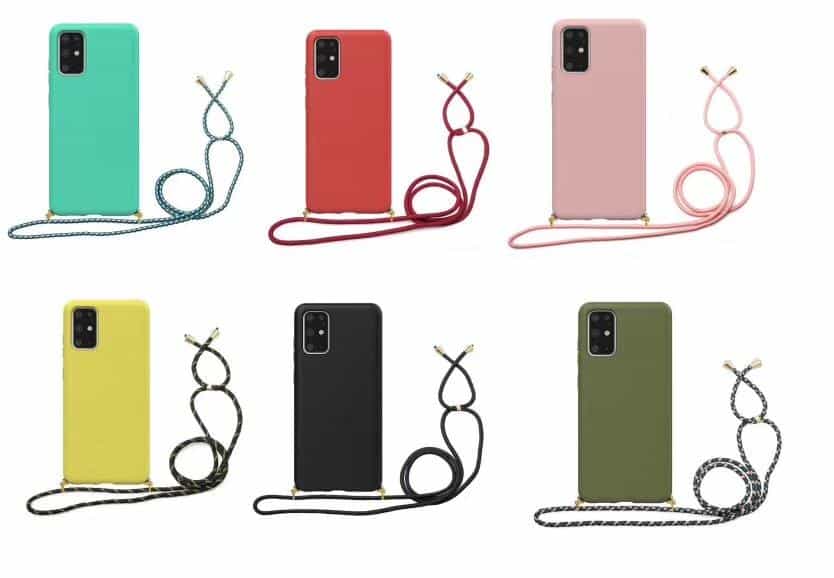 The crossbody shoulder strap phone cases becomes popular recently, so you can not miss out on the biodegradable phone case with crossbody straps too.
It adds 2 nail buckles at the bottom, and then with a colorful nylon rope that can be adjusted in length, a crossbody phone case is done.
Custom your LOGO on the accessories is available for brand visualization, you can also choose different colors of cord to match your design color.
And more, the colors of the biodegradable phone cases is also supported customizing with a Pantone color code, but the minimum order quantity is around 5000pcs.
How to get biodegradable packaging for biodegradable phone cases?
To get recycled packaging for the biodegradable phone cases is also important, because most people are willing to get a 100% eco-friendly item when they decided to buy a biodegradable phone case.
There is no packaging that is made of wheat straw, but we can choose a 100% papercraft phone case packaging to meet the eco-friendly demands.
for choosing a suitable size packaging, you can check How To Choose The Right Packaging for Your Phone Case.
We all want to do what we can to protect our planet, and so do your clients.